Brass Oil Puja Lamp (Gold, 5 inches)
₹ 51 OFF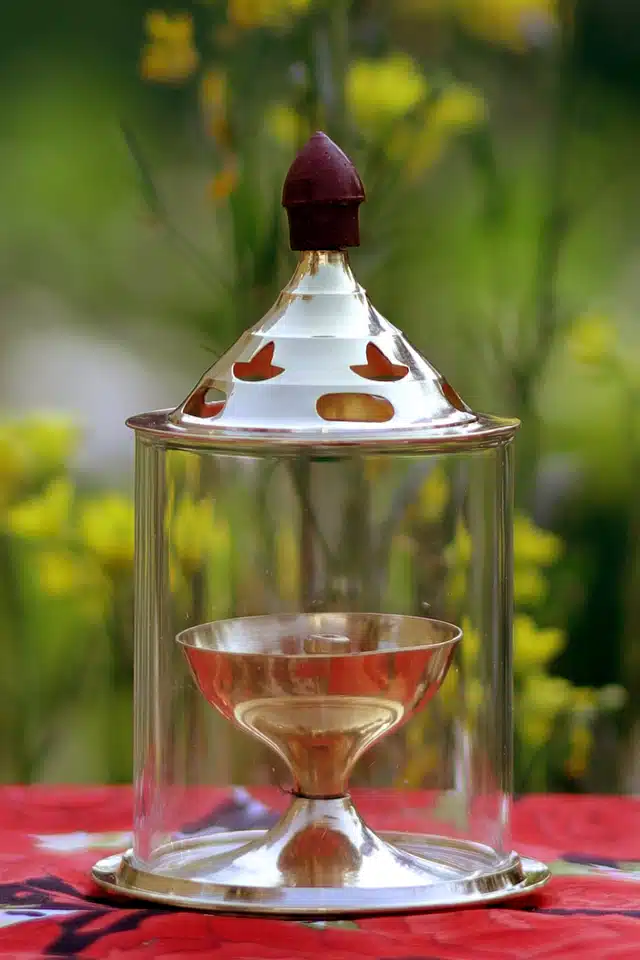 Buy Diyas & Lanterns in Citymall
Easy returnable
Within 7 days
Cash on delivery
Free delivery
Colour : Gold
Size : Medium
Material : Brass
Heat And Crack Resistant Create A Meditative And Peaceful Ambiance In Your Puja Room With The Heaven Decor Akhanddeep. Even After Incessant Burning For Long Hours. It Is Efficient In Emitting Brighter Light And Is Safe For Use Compared With Open-Flamed Diyas. The Glass Composition Used In This Diya Makes It Extremely Durable And Crack Resistant, Which Allows You To Use It With Ease On A Daily Basis. Available Online At A Cost-Effective Price, The Heaven Decor Medium Diya Is Very Attractive And Worth Purchasing For Personal Use Or For Gifting Purpose.
Easy To Use And Clean This Heaven Decor Brass Diya Is Designed For Ease In Inserting Whip, Refilling Oil And Cleaning. It Emits Brighter Light Due To The Increased Clarity Provided By The Superior Quality Glass. The Flame Of This Brass Diya Does Not Go Off Or Cause Any Danger Even When The Fan Is On As The Diya Comes With A Lid. Instead Of Using Wire Mesh Or Steel Wool For Cleaning The Diya, You Can Soak The Diya In Pitambari Powder And Water For Enhancing Its Shine. Its Glass Surface Can Be Easily Cleaned With Liquid Soap And Sponge.
Brand: Heaven Decor Includes: One Piece Akhanddeep Colour: Golden Material: Brass And Glass Size: 3.2X3.2X5 Inch Highly Resistant To Thermal Shock
This product is returnable within 7 days of delivery to the customer. It must be unused, undamaged and untampered with no stains/ scratches/ tears/ holes. It must be returned in the original packaging box with the original packaging receipt and material.
Disclaimer The actual product packaging, material and design may vary. Suppliers listing their products on CityMall are solely responsible for the accuracy of product information. The products shall not be used for any illegal or violent purposes and CityMall shall not assume any loss, claims or damages that may arise from such activities. Country of Origin India