Combo of Flip Flops & Sneakers for Men (Pack of 2) (Multicolour, 10)
₹ 542 OFF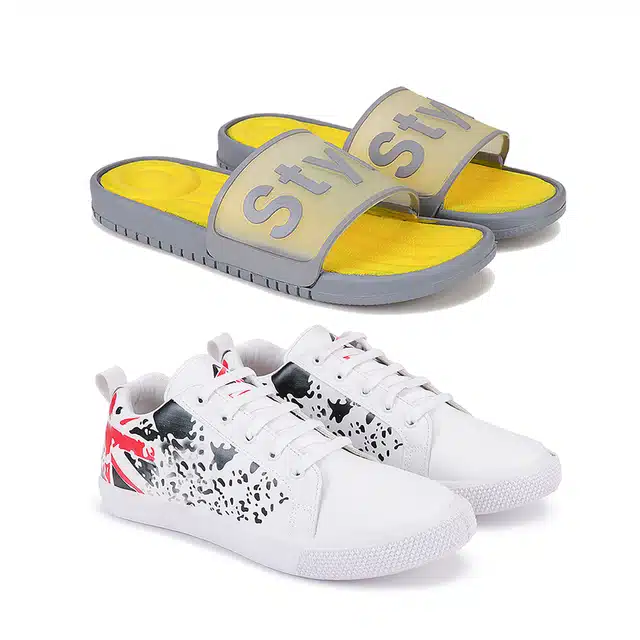 Combo of Flip Flops & Sneakers for Men (Pack of 2) (Multicolour, 10)
इजी रेटर्नेबल
7 दिन के अंदर
कैश ऑन डिलीवरी
फ्री डिलीवरी
Colour : Multicolour
Size : 10
Material : Eva
Oricum Nice well-made "FLIP-FLOP", Lightweight & Breathable, Daily wear WATER PROOF CHAPPALS EXCLUSIVELY FOR MEN & Home Washable with Exclusive designs and Durable materials, Perfect flip flops for daily wear walking Slippers which provide your every step feels light and breezy. Breathable, free-moving fabrics which adjust according to your foot and creates an astoundingly easy-going experience. Made with the sense of the latest fashion trends. Made for long-term wear, to provide comfort to the feet, Comfort Sole & Flexible Walk: The outsoles are made by an air cushion, doubling the effect of shock absorption. Besides, these shoes perform excellent in durability and are also slip resistant. It provides comfort to your every step. About our Shoes offering the latest best quality trending footwear online at best low price with Friendly Customer Service!!!!
This product is returnable within 7 days of delivery to the customer. It must be unused, undamaged and untampered with no stains/ scratches/ tears/ holes. It must be returned in the original packaging box with the original packaging receipt and material.
Country of origin India Disclaimer The actual product packaging, material and design may vary. Suppliers listing their products on CityMall are solely responsible for the accuracy of product information. The products shall not be used for any illegal or violent purposes and CityMall shall not assume any loss, claims or damages that may arise from such activities.