Duffel Bag with 4 Compartment (Blue, L)
₹ 340 OFF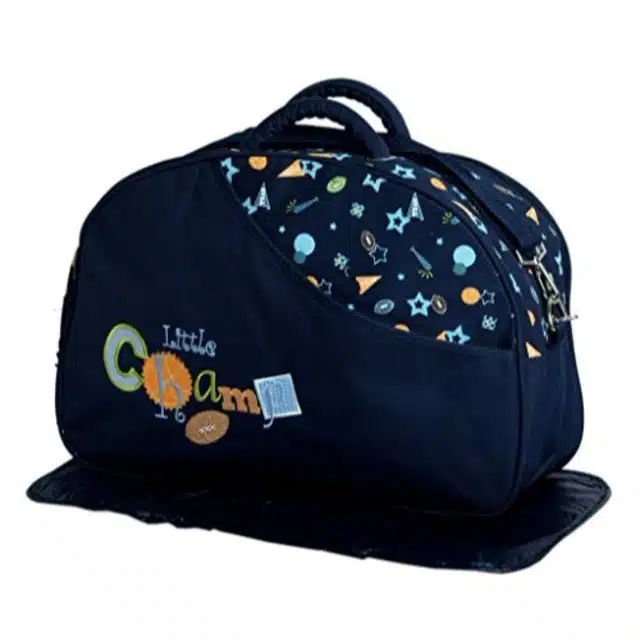 Shop the Best Duffel Bags in CityMall
Easy returnable
Within 7 days
Cash on delivery
Free delivery
Colour : Blue
Size : L
Material : Polyester
POPREX BABY Presenting a Stylish Waterproof Multi functional Baby Diaper Bag for Moms for Travel Maternity. Hospital or Travelling Use Organizer Bag for Newly Moms. Every Mommy Will Love This Product, Its Elegant Stylish Standard Cute Design Is Attractive and Eye-Catching with the Shoulder Straps & Easy Tote Carrying Handle. Its Spacious Interior Make This Diaper Bag an Ideal Companion for Baby and Parents on the Go. Its Actually a High Grade and an Awesome Luxury Diaper Organizer Bag Which Is Specially Made to Carry All Baby Items in It. Mothers Can Use These Bags in Shopping, Travelling, for Trips and Etc. You Can Gift This Bag to Ur Friends on Their Baby Shower Ceremony. Dimension of the Bag: Approx. 43 Cm Width, 30 Cm Length, 15 Cm Depth. Dimension of the Changing Pad: Approx. 50 Cm Length, 29 Cm Width. Front Out Side 2 Big Pockets with Good Quality Chains, and a Single Open Pocket Closure with Tape. Nursery Bags Are Carefully Made to the Highest Safety Standards.it Providing Safety and Comfort to Parent to Carry. It Has Zipper Pockets Adjustable Shoulder Strap Waterproof Lining Throughout Easy Going Use. Multiple Storage Pockets for Baby's Necessities and Convenient Pockets on the Outside to Secure Your Keys, Wallets, and More. Zip Close Pockets to Safely Organize Baby's Toys, Cloths, Diapers and More. Both Exterior Zippered Compartments Provides Quick Access to Items.
This product is returnable within 7 days of delivery to the customer. It must be unused, undamaged and untampered with no stains/ scratches/ tears/ holes. It must be returned in the original packaging box with the original packaging receipt and material.
Country of origin India Disclaimer The actual product packaging, material and design may vary. Suppliers listing their products on CityMall are solely responsible for the accuracy of product information. The products shall not be used for any illegal or violent purposes and CityMall shall not assume any loss, claims or damages that may arise from such activities.