E-Retailer® Multipurpose Cotton Kitchen Napkins For Home Cleaning (Pack Of 6) (Black, 46X46 cm) (ST119)
₹ 307 OFF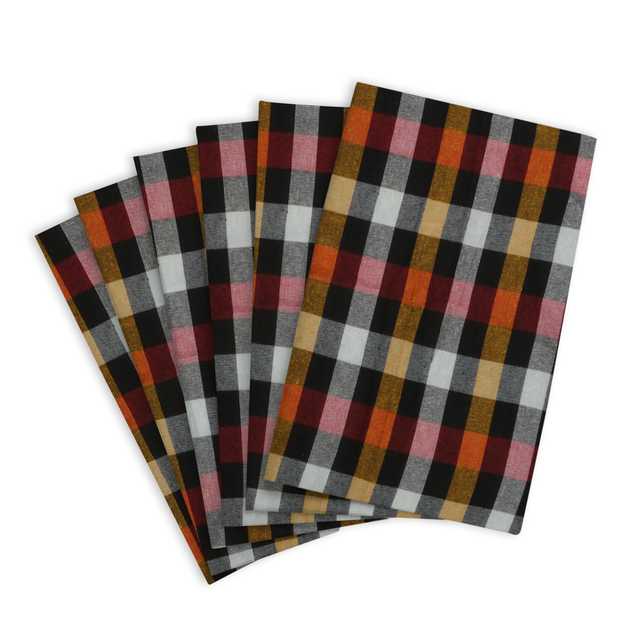 Buy Kitchen Napkins Online at Citymall
Easy returnable
Within 7 days
Cash on delivery
Free delivery
Colour : Black
Material : Cotton
Size : 46x46 cm
E-Retailer understand that today we are extra careful of daily home hygiene, washing and wiping everything that comes home and every surface that is touched by all and brings cotton napkin which helps to maintain your kitchen and home clean & safe.
Cotton Material
These Napkins are made from high quality cotton fabric, which makes it soft and will not scratch paints, coats or other surfaces while wipe. A package contains set of 6 Pcs. Napkin size (in inches-18x18, in cm-46 x 46).
Multiple Uses
Cleaning Cloth-Perfect for all of your cleaning needs. Whether you're dusting furniture, cleaning your car, or cleaning your bike, these non-abrasive clothes do it all.
Drying Dishes-Perfect for drying dishes, wiping down your kitchen counters, silverware, plates, pots with scratch free & water mark.
Food Cover- Perfect for chapattis Napkins, Wraps, Roti Cover, and many more.
Pot Holder - After folding it also helps to maintain your table, kitchen by placing it under the hot pot. Kitchen tasks like pulling out a brownie pan from the oven, rearranging hot pots and pans on the stove with good insulation for protecting your hands from heat.
Easy to Clean
Normal Hand wash or machine washable and dryable. So, let's bring this Multipurpose Napkins at your home and add more hygiene safety in your kitchen as well as home
This product is returnable within 7 days of delivery to the customer. It must be unused, undamaged and untampered with no stains/ scratches/ tears/ holes. It must be returned in the original packaging box with the original packaging receipt and material.
Country of origin India Disclaimer The actual product packaging, material and design may vary. Suppliers listing their products on CityMall are solely responsible for the accuracy of product information. The products shall not be used for any illegal or violent purposes and CityMall shall not assume any loss, claims or damages that may arise from such activities.