PVC Multipurpose Fridge Mat (Pack of 8) (Black, 44X29 cm) (ER-467)
₹ 505 OFF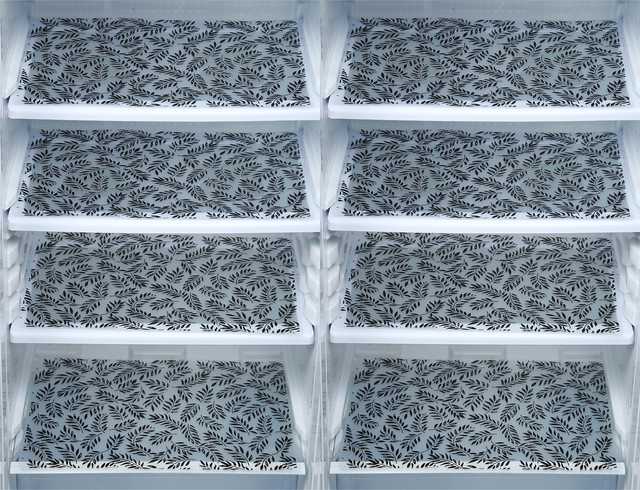 PVC Multipurpose Fridge Mat (Pack of 8) (Black, 44X29 cm) (ER-467)
Sold Out
This item is currently out of stock
Easy returnable
Within 7 days
Cash on delivery
Free delivery
Colour : Black
Material : PVC
Size : 44X29 cm
Type : Multipurpose Mat
E-Retailer Fridge/ Drawer Mat is very useful and specially designed to keep the fridge clean. These mats are made from high quality PVC material that is water, heat, and stain-resistant. A Package has 8 pieces of fridge mats with product dimension-(LxW: 17.5x11.5 Inch/ 44x29 cm).
This fridge mat protects the fridge shelf from direct contact from scratches, spills, stains and help to maintain the glass trays clean and spotless. These multipurpose Fridge Mats are waterproof. So, you can simply wipe it with a dry and wet cloth.
Our Mats not only protect your Fridge, its color and design are very attractive that can instantly enhance the beauty and light up your Fridge as well as kitchen area. The mats can also function as drawer mats and dining mats.
When you spent so much on your Refrigerator then do not compromise on protecting it. So let's bring home this beautifully designed Fridge Mat and increase the life of your fridge by protecting it from dust and scratches and enhance the beauty of your Kitchen Area.
This product is returnable within 7 days of delivery to the customer. It must be unused, undamaged and untampered with no stains/ scratches/ tears/ holes. It must be returned in the original packaging box with the original packaging receipt and material.
Country of origin India Disclaimer The actual product packaging, material and design may vary. Suppliers listing their products on CityMall are solely responsible for the accuracy of product information. The products shall not be used for any illegal or violent purposes and CityMall shall not assume any loss, claims or damages that may arise from such activities.