Glowrima 100% Cold Pressed Grapeseed Oil For Skin Tightening, Acne & Hair Growth (100 ml) (G-827)
₹ 331 OFF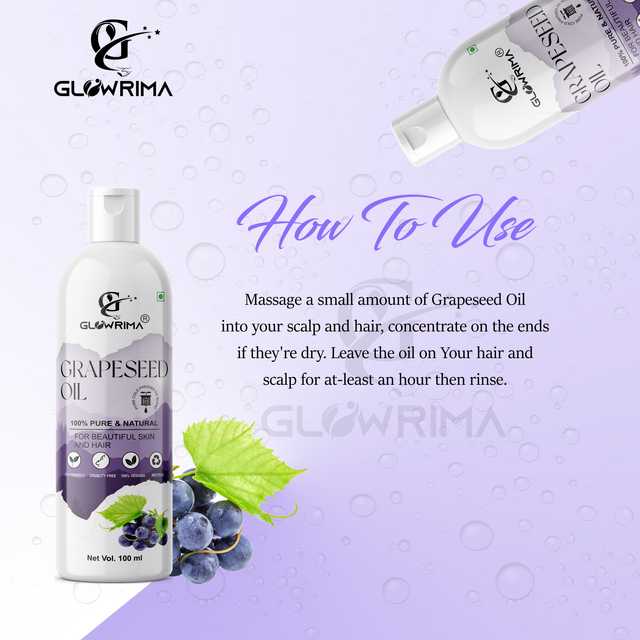 Buy the Best Herbal Oil in Citymall
Easy returnable
Within 7 days
Cash on delivery
Free delivery
Glowrima Grapeseed Oil Is 100% Pure, Cold Pressed From The Best Quality Of Fresh Grape Seeds Without Employing Heat Or Adding Refining Agents. It Is Packed In Its Natural Unrefined State For The Highest Nutrient Retention Possible. Glowrima Grapeseed Oil Is Enriched With Vitamin E, Omega-6 Fatty Acid And Antioxidants. It Is 100% Natural And Pure, Therapeutic Grade And Third-Party Tested For Purity And Potency To Ensure Only The Best Quality Oil Makes It Into Your Home. We Believe You Want Only The Best For Your Family And Yourself - Products That Are Genuine, Free From Harmful Synthetics And Of Unmatched Purity. How To Use Glowrima Grapeseed Oil Hair Care: Glowrima Grapeseed Oil Is Most Desirable Ingredients In Skin Care. It Aids In Soothing The Scalp And Helps Prevent And Combat Dandruff By Keeping The Scalp Moisturized. It Is A Natural Remedy For Baldness. It Stimulates The Growth Of Thicker, Longer, And Stronger Hair. It Protects Hair Against Environmental Toxins. It Protects Hair From Harmful Uv Rays And Revitalizes Damaged Hair. Skin Care: Glowrima Grapeseed Oil Hydrates & Nourishes The Skin And A Promising Agent To Treat Aging Symptoms Like Thinning Skin, Dryness, And Wrinkling. It Feeds Skin With Nourishing Vitamins, Antioxidants & Essential Fatty Acids. It Prevents The Skin Cells From Oxidation And Promotes Skin Rejuvenation. It Improves Skin Health And Slowdown Skin Ageing.
This product shall not be returned or refunded. It is eligible for return only if the product is returned in complete packaged and sealed state at the time of delivery, post receiving the product – the same shall be in a non-returnable state. In the event of product not received as described or damaged, the same shall be raised and resolved with the Manufacturer, we may help you to reach out to the concerned department of the manufacturer while the return shall not be processed for such articles from the supplier (City Mall).
Country of origin India Disclaimer Product color may slightly vary due to photographic lighting sources or your monitor settings. Suppliers listing their products on CityMall are solely responsible for the accuracy of product information. You shall use the products in a safe and legal manner, and it shall not be used for any illegal purpose. The actual product packaging, material and design may contain more or different information as mentioned here including nutritional information, declarations, claims, instructions of use, warning, disclaimers etc. It is recommended you read the product label before using/consuming any products and do not solely rely on the product information provided on this platform. CityMall shall not assume any loss, claims, damages, or injury, that may arise from the violent or illegal use, or misuse of the product sold by the suppliers over CityMall.