हेरी ट्रेंड्स मोल्डेड नॉन पैडेड कॉटन ब्लांड ब्रा (पैक ऑफ़ 3) (मल्टीकलर, 40 B) (HR-8)
₹ 1019 OFF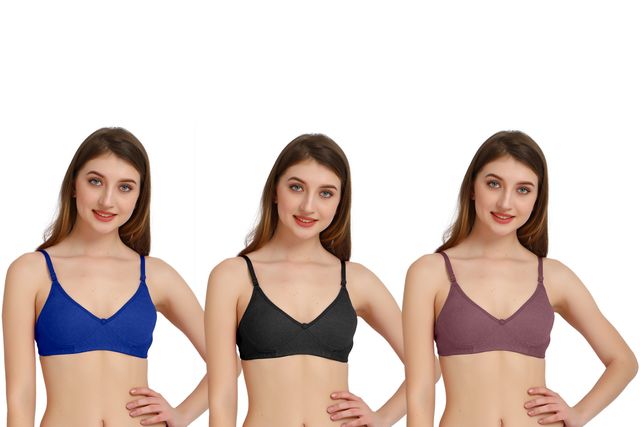 हेरी ट्रेंड्स मोल्डेड नॉन पैडेड कॉटन ब्लांड ब्रा (पैक ऑफ़ 3) (मल्टीकलर, 40 B) (HR-8)
Sold Out
This item is currently out of stock
Easy returnable
Within 7 days
Cash on delivery
Free delivery
Colour : Multicolor
Material : Cotton Bland
Size : 40 B
Seamed bra soft cup , for minimized nipple show through. Molded cups gives comfortable fit and shape with no lines. Styled for ultimate comfort. Stitched to perfection for Durability, Delicate, femmine, with a gentle touch of romance. Seamless Cups for " No Show " Curves. Crafted from soft cotton blended fabric that allows your skin to breathe. The Brassiere you love the most. The fabric that allows your skin to breathe. No more second thoughts about ultra chic, body hugging tops this full coverage bra,to give you a perfect shape. Provides and Extra Comfortable fit and has a smooth fabric for soft and cushiony comfort next to your skin and a smooth look underneath your clothes.
This product shall not be returned or refunded. It is eligible for return only if the product is returned in complete packaged and sealed state at the time of delivery, post receiving the product – the same shall be in a non-returnable state. In the event of product not received as described or damaged, the same shall be raised and resolved with the Manufacturer, we may help you to reach out to the concerned department of the manufacturer while the return shall not be processed for such articles from the supplier (City Mall).
Country of Origin India Disclaimer The actual product packaging, material and design may vary. Suppliers listing their products on CityMall are solely responsible for the accuracy of product information. The products shall not be used for any illegal or violent purposes and CityMall shall not assume any loss, claims or damages that may arise from such activities.