Khadi Kamal Herbal Rose Petal Powder & Henna Rosemary Hair Oil (Pack of 2)
₹ 141 OFF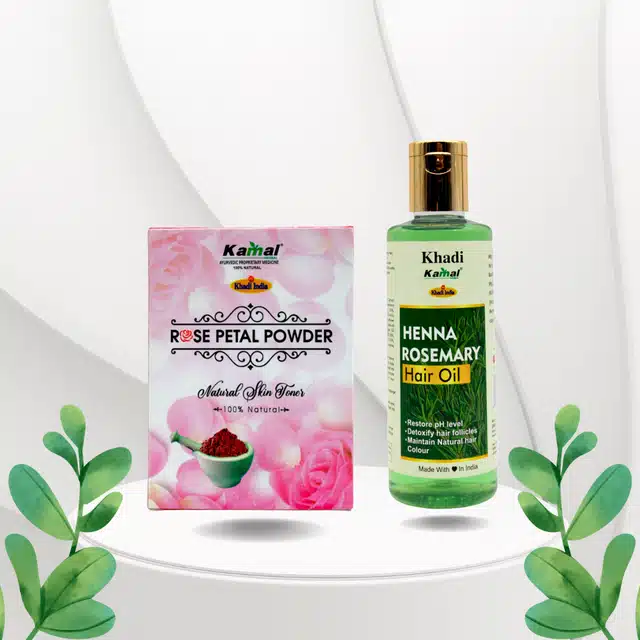 Khadi Kamal Herbal Rose Petal Powder & Henna Rosemary Hair Oil (Pack of 2)
इजी रेटर्नेबल
7 दिन के अंदर
कैश ऑन डिलीवरी
फ्री डिलीवरी
Khadi Kamal Herbal 100% Pure Natural & Organic Rose Petal Powder & Henna Rosemary Hair Oil For Man And Women By Lazywindow Benefits:- Rose Petal Powder Has Antioxidants Which Prevent The Formation Of Wrinkles. The Regular Use To Rose Petal Powder For Cleansing, Toning And Exfoliation Tightnees The Skin And Slows Down Again. How To Use:- 1. Mix 4 Tablespoon Each Of Rosepetal Powder,Milk And 2 Tablespoon Powder. 2. Add 5 Drops Of Castor Oil In It And Prepare A Mask. 3. Apply It On Your Face And Alow It Do Dry. 4. Wash It Off With Fresh Water.
How To Use:- Massage Gently With Henna Rosemary Hair Oil On Clean & Dry Scalp Using Fingertips Until It Gets Absorbed Into Scalp With Circular Motion For Few Minutes & Leave It On Overnight Or Apply 1 Hour Before Hair Wash. Note:- Do Note Rub Your Hairs Only Massage Gently. Marketed By Lazywindow.
Capacity : 100 g
Concern : Whitening
Flavour : Rose
Net Quantity (N) : 2
Shelf life (Best Before) : 36 Months
Skin Type : All Skin Types
Type : Face Care
This product is returnable within 7 days of delivery to the customer. It must be unused, undamaged and untampered with no stains/ scratches/ tears/ holes. It must be returned in the original packaging box with the original packaging receipt and material.
Country of Origin India Disclaimer The actual product packaging, material and design may vary. Suppliers listing their products on CityMall are solely responsible for the accuracy of product information. The products shall not be used for any illegal or violent purposes and CityMall shall not assume any loss, claims or damages that may arise from such activities.