Multilayer Pendant Chain for Women and Girls (Gold)
₹ 617 OFF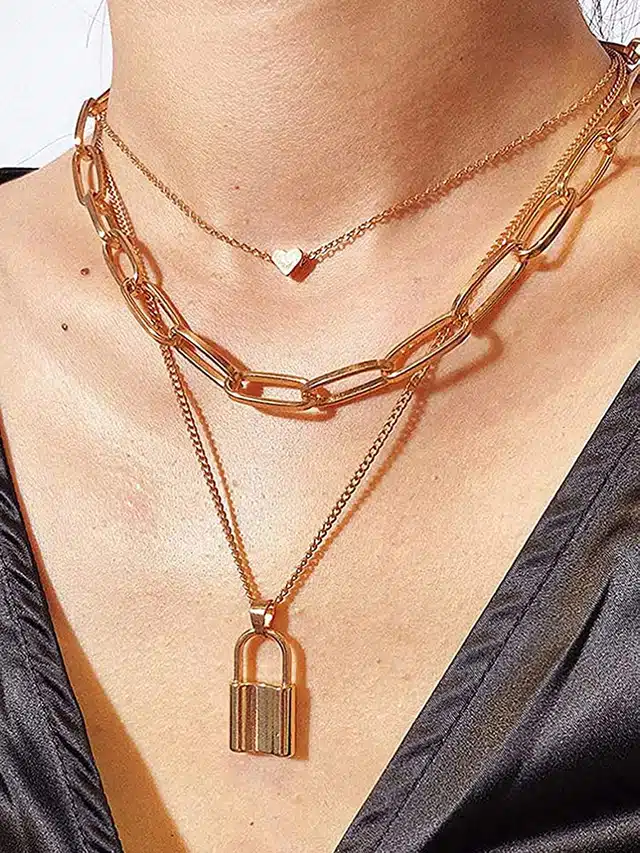 Multilayer Pendant Chain for Women and Girls (Gold)
Sold Out
This item is currently out of stock
Easy returnable
Within 7 days
Cash on delivery
Free delivery
Colour : Gold
Size : Free Size
Material : Stainless Steel
Presenting The Latest And Trendy Design In Girls Multi Layered Necklace For Women By La Belleza. 3 Layered Or Multi Chains Necklace For Women Are Extremely High In Demand These Days And For The Very Right Reasons. These Fancy Long Multi Chain Western Necklace For Women Look Uber Cool And Elegant. This Stylish Gold Neckpiece Is A Western Design 3 Layer Necklace With An Evil Eye Pendant In The Center. The Evil Eye Necklace Chain Remains Close To The Neck And The Other Chains Have Increasing Lengths In Which The Last One Is A Long Length Chain That Drops To The Chest With A Lock Pendant Hanging At The Bottom. This Golden Evil Eye Necklace With Lock Looks Very Cute And Elegant On Girls Of All Ages. These Fancy Party Wear Long Layered Necklaces For Women Look Extremely Good When Paired With Western Dresses Like Suits, Sarees Or Modern And Western Outfits Like Denims, T-Shirts Or Long Dresses. This Gold Chain For Girls Is Stylish, Trendy And Of High Quality Gold Plating That Wont Turn Black. The Golden Chain Is Light In Weight And Can Be Used To Wear Casual Wear All Day Long Without Any Issues. Wear This To Weddings, Marriage Occasions, Or To Cocktail Or Even Casual Evening Outs. This 3 Layer Lock Chain Necklace Has An Adjustable Length That Can Adjusted As Per Your Liking. These Are Latest Design Multi Layered Chains That Will Surely Get You A Lot Of Compliments. This Multi-Strand Chain Neckless Will Enhance Your Overall Outfit And Make You Stand Out. It Also Makes For A Perfect Birthday Gift Or Anniversary Gifts For Women In Your Life Like Your Wife, Girlfriend, Friend Or Your Sister. You Are Surely Going To Love This Multi Layered Fancy Golden Chain In Your Collection Of Artificial Jewelry For Women.
This product shall not be returned or refunded. It is eligible for return only if the product is returned in complete packaged and sealed state at the time of delivery, post receiving the product – the same shall be in a non-returnable state. In the event of product not received as described or damaged, the same shall be raised and resolved with the Manufacturer, we may help you to reach out to the concerned department of the manufacturer while the return shall not be processed for such articles from the supplier (City Mall).
Country of origin India Disclaimer The actual product packaging, material and design may vary. Suppliers listing their products on CityMall are solely responsible for the accuracy of product information. The products shall not be used for any illegal or violent purposes and CityMall shall not assume any loss, claims or damages that may arise from such activities.