Park Daniel Advance Hair Oil (Pack of 2, 100 ml) (SE-1614)
₹ 499 OFF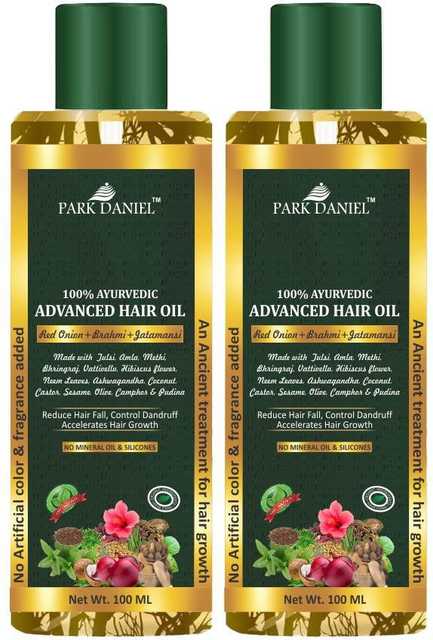 Buy the Best Herbal Oil in Citymall
Easy returnable
Within 7 days
Cash on delivery
Free delivery
This product shall not be returned or refunded. It is eligible for return only if the product is returned in complete packaged and sealed state at the time of delivery, post receiving the product – the same shall be in a non-returnable state. In the event of product not received as described or damaged, the same shall be raised and resolved with the Manufacturer, we may help you to reach out to the concerned department of the manufacturer while the return shall not be processed for such articles from the supplier (City Mall).
Park Daniel 100% Ayurvedic Advance hair oil prevents immature grey hair It has a high specific gravity which makes it dense It can easily penetrate the scalp For dry hair, rub it on your scalp, wrap a steamed towel for five minutes and then massage some more oil again This helps in deeper absorption and helps in activating the sebaceous glands Use warm oil to get rid of dandruff and leave it on overnight Anti dandruff oil √ Park Daniel 100% Ayurvedic Advance hair oil gives Complete Hair Nourishment Massage the oil on your scalp at bedtime; it helps in improving the blood circulation at the root of the hair bringing more nutrients to support hair growth protect from damage hair √ Park Daniel 100% Ayurvedic Advance hair oil for women/men is known for its cooling qualities and therefore, it can help in reducing stress This oil helps foster hair follicles It is like a natural therapy for hair The herb contains important nutrients that fulfill the deficiency of minerals √ Park Daniel 100% Ayurvedic Advance hair oil gives growth and shine thatl helps in maintaining the natural color of your hair A black dye obtained from its leaves is also used for coloring your hair naturally This oil is known to improve the hair quality and also get rid of split ends It nurtures the scalp and makes the hair stronger 100% NATURAL, HERBAL AND PROUDLY MADE IN INDIA HAIR OIL
Country of origin India Disclaimer Product color may slightly vary due to photographic lighting sources or your monitor settings. Suppliers listing their products on CityMall are solely responsible for the accuracy of product information. You shall use the products in a safe and legal manner, and it shall not be used for any illegal purpose. The actual product packaging, material and design may contain more or different information as mentioned here including nutritional information, declarations, claims, instructions of use, warning, disclaimers etc. It is recommended you read the product label before using/consuming any products and do not solely rely on the product information provided on this platform. CityMall shall not assume any loss, claims, damages, or injury, that may arise from the violent or illegal use, or misuse of the product sold by the suppliers over CityMall.