Park Daniel Wheatgerm Oil & Sesame Oil (Pack of 2, 100 ml) (SE-1487)
₹ 395 OFF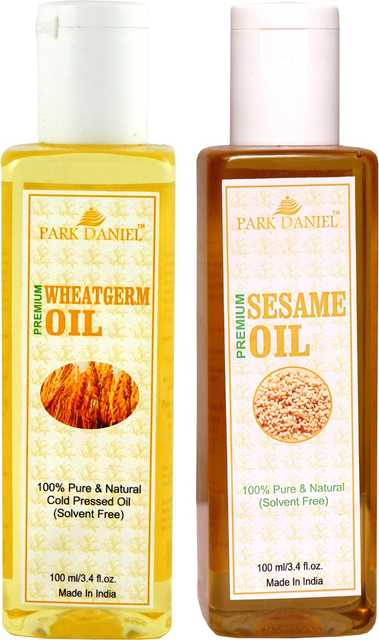 Buy the Best Herbal Oil in Citymall
Easy returnable
Within 7 days
Cash on delivery
Free delivery
This product shall not be returned or refunded. It is eligible for return only if the product is returned in complete packaged and sealed state at the time of delivery, post receiving the product – the same shall be in a non-returnable state. In the event of product not received as described or damaged, the same shall be raised and resolved with the Manufacturer, we may help you to reach out to the concerned department of the manufacturer while the return shall not be processed for such articles from the supplier (City Mall).
Park Daniel's Premium Virgin sesame oil is cold pressed oil extracted from the white sesame seeds, a flowering plant of Indian origin It is best known as queen of Oils Sesame oil goes back a long way in Indian history, it has been used for many alternative medicinal purposes such as body and hair massages Sesame oil is also famous for lighting lamps at Hindu temples This oil is filled with goodness and in our country is very popular for its nourishing properties Virgin sesame oil contains impressive amount of vitamins, minerals, natural antioxidants and other organic compounds Its vitamin and mineral ingredients such as iron, copper, calcium, manganese, magnesium, selenium and phosphorus especially vitamin E and Zinc make it highly beneficial for skin and hair Virgin sesame oil possesses many properties like anti-inflammatory, antibacterial, antidepressant, moisturizing, wound healing, sunscreen, antirhematic and detoxifying It treats cracked heels and dry knees and elbow Virgin sesame oil bestows a great massage for scalp It deep conditions the scalp and improves the health of hair follicles It helps in scalp psoriasis as it eliminates flakiness and dryness It also combats dandruff Massage with Virgin sesame oil helps in managing depression better It is very good option for infant massage
Country of origin India Disclaimer Product color may slightly vary due to photographic lighting sources or your monitor settings. Suppliers listing their products on CityMall are solely responsible for the accuracy of product information. You shall use the products in a safe and legal manner, and it shall not be used for any illegal purpose. The actual product packaging, material and design may contain more or different information as mentioned here including nutritional information, declarations, claims, instructions of use, warning, disclaimers etc. It is recommended you read the product label before using/consuming any products and do not solely rely on the product information provided on this platform. CityMall shall not assume any loss, claims, damages, or injury, that may arise from the violent or illegal use, or misuse of the product sold by the suppliers over CityMall.