Plastic Food Storage Container with Air Tight Lid (Brown, Pack of 3)
₹ 238 OFF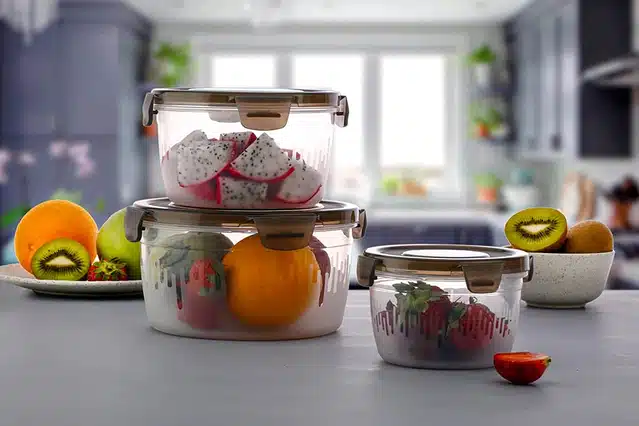 Plastic Food Storage Container with Air Tight Lid (Brown, Pack of 3)
Sold Out
This item is currently out of stock
Easy returnable
Within 7 days
Cash on delivery
Free delivery
Material : ABS
Net quantity n : Pack Of 3
Colour : Brown
Air-Locked Food-Storage Set Airtight Lockage Airtight And Spill Proof, This Set Of Amazonbasics Food-Storage Containers With Secure-Fitting Lids Keep Wet Or Dry Food Stored, Neatly Organized, And Fresh For Longer, Helping To Retain Flavour And Reduce Waste. Each Matching Lid Features Four Snap-Down Latches And A Special Silicone Seal In The Rim To Ensure Perfect, Secure Closures And Reliable, Leak-Free Performance. Bpa Free And Stain Resistant, The High-Quality Plastic Containers Offer Long-Lasting Durable Strength And A Transparent Design, Which Allows For Identifying Contents At A Glance (No Need For Labels). (2)Store Food Ideal For Any Busy Kitchen, The Lidded Food-Storage Containers Make It Simple To Freeze Meals Ahead Of Time, Store Healthy Snacks Or Leftovers In The Fridge, Or Keep Dry Goods Fresh In The Pantry. The Reusable Containers Also Work Great For Transporting Weekday Lunches From Home To Work Or School And Back Again. They Can Even Be Used As Organizers, Neatly Storing Small Craft Items Or Office Supplies.
This product is returnable within 7 days of delivery to the customer. It must be unused, undamaged and untampered with no stains/ scratches/ tears/ holes. It must be returned in the original packaging box with the original packaging receipt and material.
Country of origin India Disclaimer The actual product packaging, material and design may vary. Suppliers listing their products on CityMall are solely responsible for the accuracy of product information. The products shall not be used for any illegal or violent purposes and CityMall shall not assume any loss, claims or damages that may arise from such activities.