Stainless Steel Saucepan (Silver, 1.5 L)
₹ 1338 OFF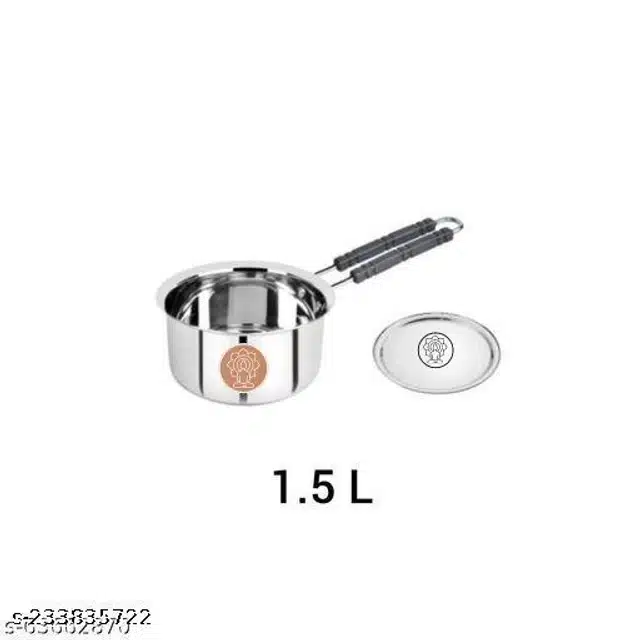 Stainless Steel Saucepan (Silver, 1.5 L)
Sold Out
This item is currently out of stock
Easy returnable
Within 7 days
Cash on delivery
Free delivery
Size : Free Size
Material : Stainless Steel
Colour : Silver
Name: Copper Bottom Saucepan With Stainless Steel LID Material: Stainless Steel Shape: Round Surface Coating: Non Stick. Product Breadth: 9 Cm Product Height: 8 Cm Product Length: 14 Cm Net Quantity (N): Pack Of 1 A saucepan is a piece of cookware that functions as a small, deep pot for cooking liquids on a stovetop. This type of pan is deeper than a standard sauté pan or frying pan. A saucepan has a flat bottom and steep sides with straight edges like a pot, and a long handle like a pan. Copper is a perfect heat conductor. The heat will evenly be spread over the cookware and dispensed accurately.
Country of Origin: India
This product is returnable within 7 days of delivery to the customer. It must be unused, undamaged and untampered with no stains/ scratches/ tears/ holes. It must be returned in the original packaging box with the original packaging receipt and material.
Country of origin India Disclaimer The actual product packaging, material and design may vary. Suppliers listing their products on CityMall are solely responsible for the accuracy of product information. The products shall not be used for any illegal or violent purposes and CityMall shall not assume any loss, claims or damages that may arise from such activities.