Park Daniel Sesame, Olive and Castor Oil (Pack of 3, 100 ml) (SE-1138)
₹ 410 OFF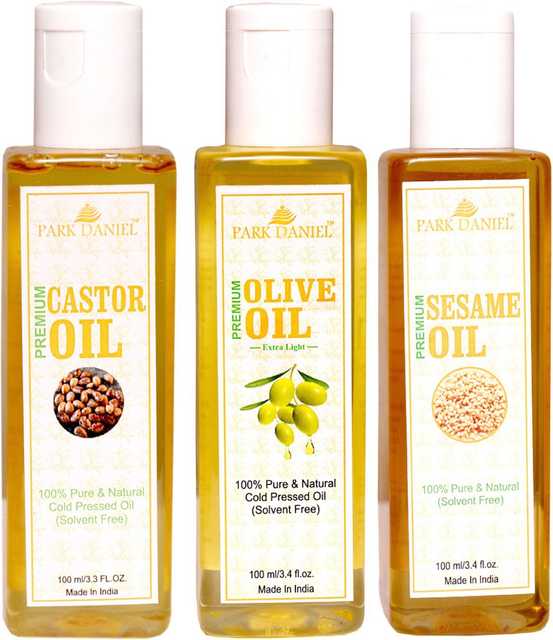 Buy the Best Herbal Oil in Citymall
Easy returnable
Within 7 days
Cash on delivery
Free delivery
This product shall not be returned or refunded. It is eligible for return only if the product is returned in complete packaged and sealed state at the time of delivery, post receiving the product – the same shall be in a non-returnable state. In the event of product not received as described or damaged, the same shall be raised and resolved with the Manufacturer, we may help you to reach out to the concerned department of the manufacturer while the return shall not be processed for such articles from the supplier (City Mall).
Park Daniel Premium Extra light Olive Oil helps to Pamper your skin with the many nourishing properties of olive oil that is made by cold pressing olives to get the best of Mother Nature's bounty Hair Tonic : for Dry Hair, Gives Shine & Keeps it Moisturized- Olive oil is a great hair tonic that is perfect for dry hair It goes deep into your hair shaft and moisturises it giving your locks a healthy shine Simply apply before shampooing and be mesmerised with the results Absorbs UV Radiation - Olive oil is a natural sunscreen and absorbs UV rays so you stay safe when you head out A little known fact but completely true Relieves Skin from Itching- Any irritation, soreness or itchy feeling is soothed and your skin feels completely comfortable after just one application of Park Daniel's Premium extra light Olive Oil Heals Skin from Stings or Bites - Day-to-day mishaps like bee stings or insect bites can be effectively cured with this Park Daniel's Olive Oil in your cupboard Antioxidants, including Vitamin E - Olive oil is rich in Vitamin E that is an excellent antioxidant and protects your skin from free radicals to give you a youthful look
Country of origin India Disclaimer Product color may slightly vary due to photographic lighting sources or your monitor settings. Suppliers listing their products on CityMall are solely responsible for the accuracy of product information. You shall use the products in a safe and legal manner, and it shall not be used for any illegal purpose. The actual product packaging, material and design may contain more or different information as mentioned here including nutritional information, declarations, claims, instructions of use, warning, disclaimers etc. It is recommended you read the product label before using/consuming any products and do not solely rely on the product information provided on this platform. CityMall shall not assume any loss, claims, damages, or injury, that may arise from the violent or illegal use, or misuse of the product sold by the suppliers over CityMall.