Park Daniel Sweet Almond Oil & Castor Oil (Pack of 2, 100 ml) (SE-1457)
₹ 315 OFF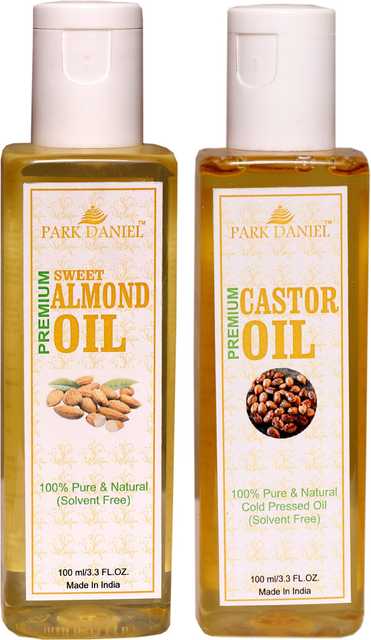 Buy the Best Herbal Oil in Citymall
Easy returnable
Within 7 days
Cash on delivery
Free delivery
This product shall not be returned or refunded. It is eligible for return only if the product is returned in complete packaged and sealed state at the time of delivery, post receiving the product – the same shall be in a non-returnable state. In the event of product not received as described or damaged, the same shall be raised and resolved with the Manufacturer, we may help you to reach out to the concerned department of the manufacturer while the return shall not be processed for such articles from the supplier (City Mall).
Park Daniel Premium Sweet Almond Oil is extracted from good quality seeds of Almond Plant It is rich in Calcium, Phsphorous, Potassium, Vitamin E, Vitamin B like Niacin, Riboflavin, Thiamin, Folate, Vitamin B6, Choline Park Daniel Premium Sweet Almond Oil  is an ideal therapy for the prevention of ageing or loosening of skin and provides agelessly youthful skin forever It is also helpful in the treatment of acne and improving blood circulation throughout your body Park Daniel Premium Sweet Almond Oil is a specialised therapeutic oil for body massage that infuses your skin with the richness and vigour of pure almond extracts This cold pressed organic oil is nutrient-rich and provides an anti-bacterial protective action to your tender skin, making it lush, lustrous and firm like never before Almond Oil is an odourless oil that has rich antioxidant properties to reverse the ageing process and replenish your skin with optimum moisture and rebuilding factors Park Daniel Premium Sweet Almond Oil is a lubricating massage oil is uniquely formulated to be non-greasy and smooth against your skin and is ideal for regular massage This oil is nourishing and detoxifying, and can be used both on your face or the entire body The therapeutic formula is easily absorbed by your skin cells and stimulates cell regeneration and rejuvenation, resulting in well-moisturized and resilient skin that glows with a healthy appeal
Country of origin India Disclaimer Product color may slightly vary due to photographic lighting sources or your monitor settings. Suppliers listing their products on CityMall are solely responsible for the accuracy of product information. You shall use the products in a safe and legal manner, and it shall not be used for any illegal purpose. The actual product packaging, material and design may contain more or different information as mentioned here including nutritional information, declarations, claims, instructions of use, warning, disclaimers etc. It is recommended you read the product label before using/consuming any products and do not solely rely on the product information provided on this platform. CityMall shall not assume any loss, claims, damages, or injury, that may arise from the violent or illegal use, or misuse of the product sold by the suppliers over CityMall.