₹ 354 OFF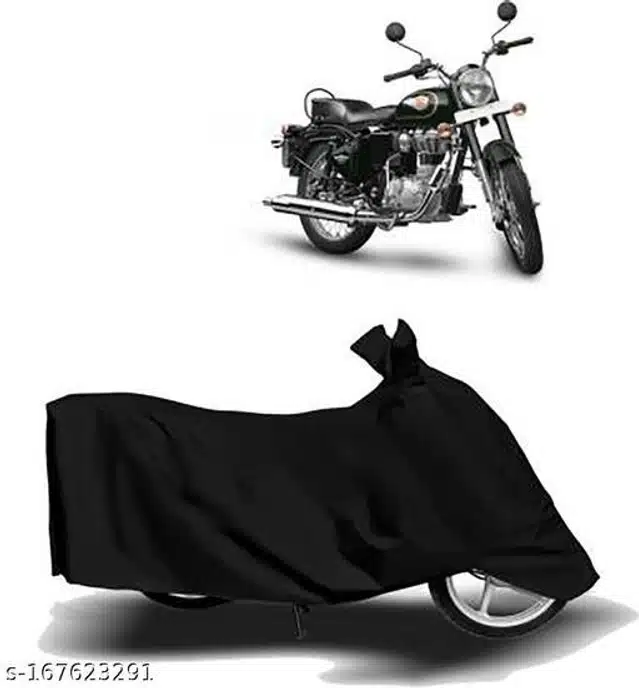 Motorcycle Covers for Sale at citymall
Easy returnable
Within 7 days
Cash on delivery
Free delivery
Size : Free Size
Design : Solid
Material : Polyester
Name: STAR BIKE COVER FOR ROYAL ENFIELD TWIN SPARK BLACK Material: Polyester Brand: Royal-Enfield Pattern: Solid Product Breadth: 7 Inch Product Length: 10 Inch Product Height: 0.5 Inch Net Quantity (N): 1 SRI VAISHNAVI ENTERPRISES PRESENTS Water resistant two wheeler cover, protects your bike from damage induced by moisture, rust, and minor scratches, when the vehicle is stationed outdoors. Designed with hi performance material, the t cover is customized to match your bike's specifications and precisely secure the vehicle. Easy to fit high quality fabric water and heat resistant covers entire body of the bike extremely lightweight and durable tie-strap with a heavy buckle lock to hold cover in place. Maximum protection from the elements is ensured as the cover shields the bike from direct exposure to the sun, which in turn prevents the paint or vehicle hardware from wearing out. The full-coverage bike cover also helps to protect the vehicle from splatter and animal or bird excrement. This Cover is Water resistant.
Country of Origin: India
This product is returnable within 7 days of delivery to the customer. It must be unused, undamaged and untampered with no stains/ scratches/ tears/ holes. It must be returned in the original packaging box with the original packaging receipt and material.
Disclaimer The actual product packaging, material and design may vary. Suppliers listing their products on CityMall are solely responsible for the accuracy of product information. The products shall not be used for any illegal or violent purposes and CityMall shall not assume any loss, claims or damages that may arise from such activities. Country of origin India